How to Choose the right Elliptical Machine ? 10 Tips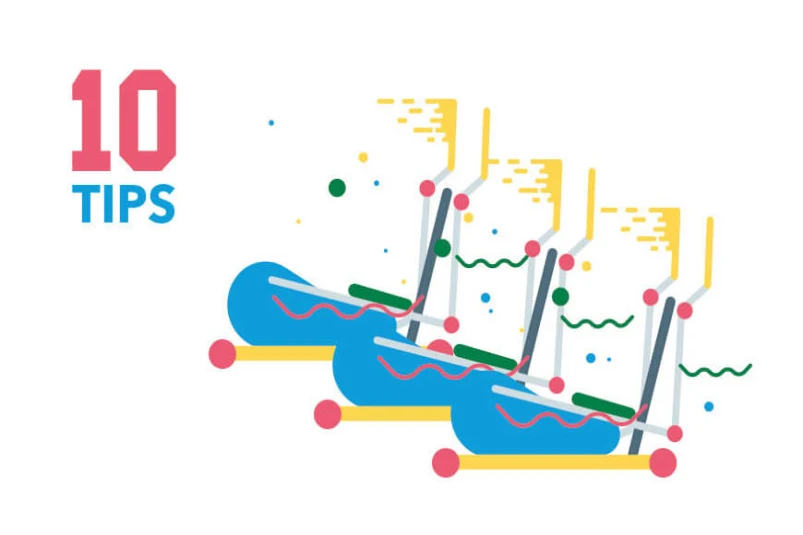 It's not always easy to choose, to understand the differences between the different elliptical trainers, to know what the flywheel weight is or what difference it makes, to know if a 50 cm stride length is a good thing and finally which elliptical offers the best value for money... Discover the most important buying criteria and follow our tips for choosing your elliptical trainer and avoid buying a cross trainer that is not comfortable, not stable and squeaks after the second use.
The flywheel weight is one of the main criteria you should look carefully at when buying an elliptical trainer as it impacts the quality, comfort and fluidity of pedaling. A flywheel that is too light, from 7 to 10 kg, will cause an unpleasant pedaling with jerks.
The flywheel weight determines the resistance of the elliptical wheel to a change of speed or to an acceleration. In other words, the higher the flyheel weight, the more resistance you will encounter when you accelerate, therefore you will have to provide more pedaling effort to achieve a certain speed (you will not immediately reach your maximum speed).
Basically, with an elliptical bike with a very light wheel, you will immediately reach the desired speed when you accelerate (very little resistance to acceleration) and your bike will stop immediately when you stop pedaling (little or no resistance to deceleration). An elliptical trainer with a heavier wheel therefore offers a greater pedaling fluidity, more comfort and better sensations (it is necessary to provide some effort before reaching a certain speed).
Here is a comparative table of elliptical bikes according to the flywheel weight:
| flywheel weight | Usage | Elliptical Trainers |
| --- | --- | --- |
| > 21 kg | Professional use (2-3 times a day) | DKN XC-160i |
| 11-21 kg | Frequent use (1-3 times a week) | DKN XC-140i |
| 7-10 kg | Occasional use (1-2 times a month) | BH i.Athlon Dual |
OUR TIP:
1. Be careful when the flywheel weight is not specified, this is never a good sign! 2. A 7 kg flywheel is really the minimum (or even 9-10 kg for an elliptical machine)! Below, you may have an elliptical bike whose pedaling is not fluid (with jerks). We advise you to choose a bike with a flywheel of at least 13-14 kg and up to 20-21 kg.
The stride length is also one of the most important criteria in the choice of an elliptical bike because it determines the amplitude of the movement of the legs and consequently the pedaling comfort. The goal is not to have the greatest stride possible but to have a stride of sufficient length for the movement of the legs not to be too restrained or too limited. A stride length of 40 cm is what is generally recommended. Below, you may feel limited in your movements, your stride will be less elliptical and your pedaling will be closer to that of a stationary bike or a stepper. When the stride is long enough, you can really extend your legs completely with each movement.
The stride length is more or less related to the size or length of the elliptical machine. A smaller elliptical trainer will also have a shorter stride length. Ellipticals that are smaller than 130-135 cm usually have stride lengths of 30 cm or less. Do not choose a smaller bike at any price to take up less space because it will probably have a shorter stride length.
In general, a better elliptical trainer will be longer and will take up more space. For example, the DKN XC-140i has a stride length of 40.6 cm and is 142 cm long while the DKN XC-160i has a stride length of 54 cm and is 188 cm long. The professional elliptical bikes in the gyms or fitness centers are more than 2 meters long. If you intend to use an elliptical trainer at home on a regular basis and are not aiming for a competition level, then a 40 cm stride is more than enough and offers a good range of motion.
WHAT YOU SHOULD KNOW:
Your height can influence your choice of elliptical trainer. The bigger you are, the more limited you will be in your movements if the elliptical stride is too small! If you are higher than 1.90 m, we advise you to choose an elliptical trainer with a stride length of more than 50 cm.
Some fitness manufacturers also specify the distance between the pedals. However, it is not very clear when you read that the distance between the pedals is 15 cm... When you look at the specifications such as the flywheel weight, the stride length and the size of the elliptical machine, it already gives you a good idea of its quality and the other criteria such as total weight, distance between pedals will usually confirm your opinion.
With the mechanical resistance, you increase the pedaling difficulty by turning a wheel, while the magnetic resistance can be directly modified from the console of the elliptical trainer. The latter is also referred to as a motorized braking system. Practically all elliptical bikes now have a magnetic resistance as this offers much more comfort and allows you to follow cardio workout routines with automatic change of the resistance levels.
The watts measure your pedaling power based on your walking or pedaling speed and your level of resistance. Manufacturers of elliptical bikes specify the maximum wattage, which gives an indication of the maximum resistance of the bike. The DKN XC-140i can for example go up to 350 watts, the DKN XC-160i up to 400 watts. The watts are an indication of the quality or rather the power of an elliptical bike (we could compare this to the maximum speed of a car: even if you do not reach the max speed, this gives you an idea of ​​the quality of the machine).
More and more elliptical bikes offer a Bluetooth connection, allowing you to connect your phone or tablet (iPhone or iPad also) wirelessly to your elliptical trainer. This allows you to position your phone on the bike console and use it as a touch console. You can see your pedaling speed directly on your smartphone or your tablet and control the pedaling difficulty or resistance of the bike on your smartphone! Mobile applications like the Vescape app allow you to follow cardio and HIIT workouts, to customize your workout routines and track your stats like the number of calories burned for example. The Bluetooth connection is a plus that makes the workout more interactive.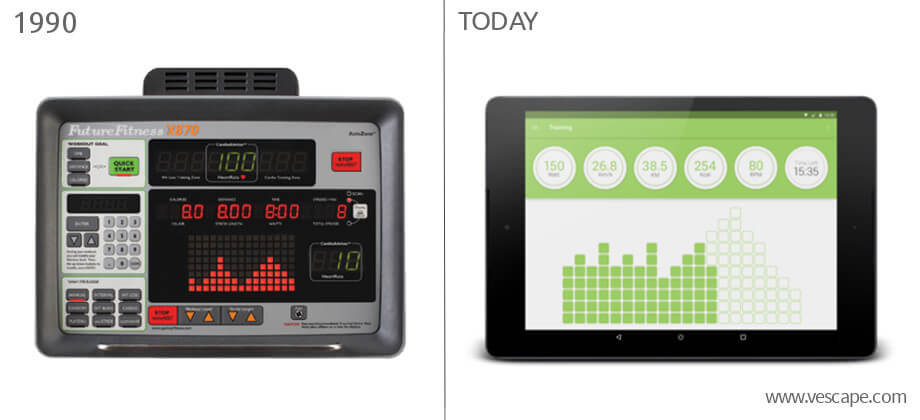 On the right side: A workout routine in the Vescape App
Most elliptical bikes for the home market have a back-wheel, such as the DKN XC-140i for example. On the other hand, among the high-end or professional fitness machines, you can find both rear drive and front drive elliptical trainers so that one can not say that one is better than another. All characteristics such as the position of the wheel, the height of the pedals and the length of the strides define the general elliptical movement of the machine.
The weight of an elliptical trainer is a good indicator of its stability and robustness. Trainers that are too light (less than 30 kg) are less stable and tend to move when one is pedaling quickly. For a comparison, the DKN XC-140i weighs 58 kg and the DKN XC-160i weighs more than 90 kg! You should know that all elliptical bikes have rollers in order to be moved easily.
The weight of the elliptical trainer and the maximum user weight supported go hand in hand: a very light elliptical will support less than a heavier bike. Medium and high-end elliptical trainers ensure a maximum weight of 130-150 kg, while entry-level ellipticals guarantee only up to 90-100 kg. A tip: If you are at the limit of the maximum user weight supported, it is better to buy a higher-end bike whose maximum user weight is greater than your own weight.
Design means both the "industrial" conception of the machine but also its aesthetic aspect which is also important. Look carefully before buying if the elliptical bike consists of metal parts (more durable) or plastic ones. Cheap elliptical bikes have plastic parts that are less solid than high-end bikes, which explains the difference in price in large part.
Then also choose an elliptical trainer you like because it will stay in your living room or your bedroom!
Quality has a price and the prices of the elliptical bikes generally correspond to their quality. There is unfortunately no miracle: a cheap elliptical will not have the best features! An elliptical trainer below 200 to 300 € will have a light flywheel, will not offer the same pedaling comfort or the same level of resistance as a more expensive elliptical and will already start making noise after a few sessions (sometimes even a few days). If you want a high-quality, quiet and robust elliptical trainer on which you plan to exercise at least once a week, you should invest a little more, at least 600 €.
However, some elliptical trainers offer better value for money than others. This is how we choose the models we sell on our wesite. So which elliptical trainer to choose? We believe that the best elliptical trainers for home training are the ones from DKN because they fulfill all quality criteria (comfort and fluidity of movement, silent pedaling, good resistance levels and strength) for a very good price. We therefore recommend to those who wish to work out regularly the DKN XC-140i and those who want the very high-end the DKN XC-160i.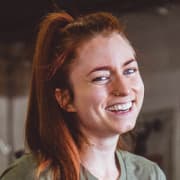 Clara Miller
Fitness Writer
Clara Miller has a Master's degree in Sports Science and has worked for famous sports and fitness brands. She is passionate about sports and regularly writes about fitness, weight loss and motivation for various blogs and magazines.