Best Home Exercise Bikes 2020 - Reviews & Comparison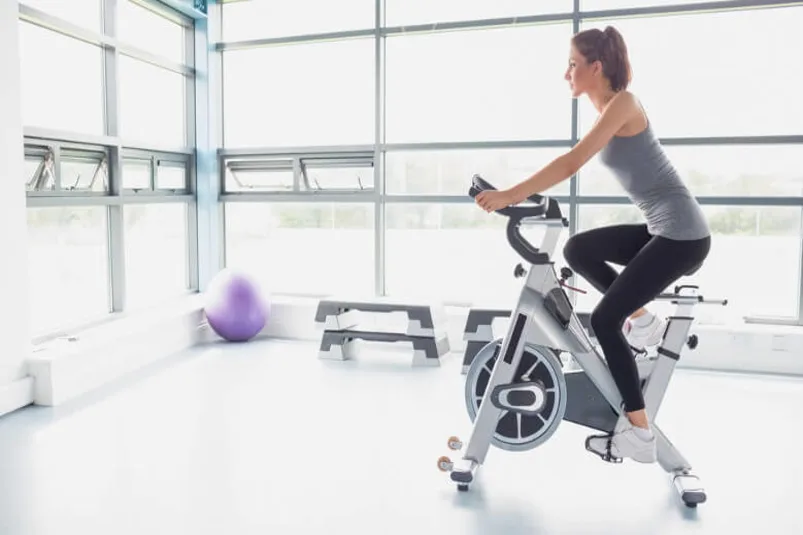 We tested nearly 50 exercise bikes for 3 months and reveal you the results of our tests!
During our tests, we took into account the following technical criteria:
- the weight of the flying wheel
- the maximum power in watts
- the number of resistance levels
- the weight of the bike
- the maximum user weight supported
- the size of the bike
- the console's characteristics
- the pedaling comfort
- the smoothness of resistance changes
- the saddle comfort and its adjustment
- the bike's solidity
- the pedaling noise after 10 hours and 100 hours of cycling
- the stability of the stationary bike during a sprint
- the design
- the general impression of the exercise bike
- the price
We will reveal you which is the best home exercise bike in 2020 and present our results and reviews in a comparison chart.
Skandika Cardiobike Ulisses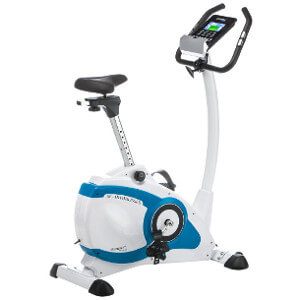 The Skandika Cardiobike Ulisses exercise bike is the big winner: nominated the "best exercise bike of 2020". Beautifully designed, powerful, solid, silent, it convinces thanks to its excellent value for money.
It is a stationary bike with a comfortable and fluid pedaling (10 kg flying wheel), has power and a good level of resistance which allows it to go up to 250 watts with 5 watt increments. It has been well designed and is durable (it does not make any noise after 10 hours of cycling and hardly after 100 hours of use). In addition, it has a Bluetooth connection which allows to use compatible mobile applications that provide more interaction in the workout like the Vescape App with various workout routines, fitness stats and the possibility to create new workouts. A very good exercise bike for a highly competitive price!
DKN AM-3i
The DKN AM-3i exercise bike arrives equal first in the ranking of the best home exercise bikes in 2020. It is of higher quality than the Skandika Ulisses but also a little more expensive.
Its black design, evoking speed and power, is neat and elegant. The DKN AM-3i scores very well in all criteria and has excellent characteristics: an 11 kg flying wheel, a pedaling power going up to 350 watts with 5 watt intervals, a very comfortable saddle and a good stability thanks to small stabilizers for adjusting the bike on any type of floor, little wheels in the front to move the bike easily and a console with an iPad holder. It is ergonomic, robust and very quiet. Its console equipped with a Bluetooth connection allows to use the Vescape workout app.
Here are the results of our tests presented in a comparison chart as well as our tips to help you choose the best exercise bike. Our ranking takes into account the most important criteria for choosing the right exercise bike as well as our personal appreciation of the fluidity of pedaling, the comfort of the bike and the position of the body during training. Choosing a good exercise bike is important if you plan to work out seriously and regularly. No good workout without a good material! In addition, you will not achieve your goals, whether it is to lose weight, get back in shape, gaining muscle or for rehab, if the fitness equipment you buy is of low quality.
Here is our exercise bikes comparison chart according to the weight of the flying wheel, the maximum user weight supported and the other criteria mentioned above.
| Model | Flying wheel | Max user weight | Price | Our Review | Score |
| --- | --- | --- | --- | --- | --- |
| Skandika Cardiobike Ulisses | 10 kg | 150 kg | £385 | The Skandika Cardiobike Ulissess currently offers the best value for money in the market.✔ Fluid and quiet pedaling✔ Saddle which is adjustable horizontally and vertically✔ Good resistance level✔ Bluetooth Console with compatible application✔ Very good value for money | 9,5/10 |
| DKN AM-3i | 11 kg | 150 kg | £425 | The DKN AM-3i has very good technical characteristics for a very good price.✔ Comfortable and silent pedaling✔ Very comfortable and adjustable saddle✔ Elegant design and good ergonomics✔ Bluetooth console with a stable tablet holder / iPad holder✔ Very good value for money | 9,5/10 |
| Kettler Racer S | 18 kg | 130 kg | £1,999 | A very high-end exercise bike, ideal for amateur and professional cyclists looking for the sensations of a racing bike and cycling several hours a day.✔ Exceptional Pedaling Fluidity✔ Power up to 600 watts✔ Features of a racing bike (elongated position, saddle, handlebars, bottle holder)✔ Very elegant Bluetooth console with compatible application✘ The iPad / tablet holder is not wide nor deep and can cause the phone or tablet to fall. | 9,4/10 |
| Toorx BRX-100 | 12 kg | 150 kg | £375 | It's a good all-around stationary bike, very similar to the DKN AM-3i for a price that is however superior and without the possibility of using its iPad or its tablet.✔ Design and ergonomics✔ Good pedaling fluidity✘ Console without Bluetooth and therefore no mobile application. Only the BRX-300 by Toorx at a price of 499 € has a Bluetooth console. | 9,1/10 |
| BH Fitness i.Polaris | 8 kg | 130 kg | £455 | A good exercise bike but at a high price compared to its technical characteristics.✘ Medium pedaling comfort.✘ Instability of the bike during a sprint or an acceleration.✘ Highly priced compared to its technical characteristics. | 8,6/10 |
| Domyos E-Energy | 8 kg | 150 kg | £279 | An exercise bike slightly below our expectations for such a well-known brand.✔ The bike is stable and has a good level of resistance.✘ Saddle is not comfortable and hard, which one already feels after 10 to 15 minutes of pedaling. ✘ Pedaling is not very fluid and little jerks over the bike's usage (and a bit of noise as well).✘ Inadequate heart rate sensor position: the heart rate sensors are located in the center of the handlebar and are very close to each other, resulting in an unnatural arm position.✘ The iPad holder is very high. | 7,5/10 |
| Ultrasport Racer 1000A | 5 kg | 130 kg | £230 | A medium quality exercise bike.✘ The maximum resistance of the bike is quite low due to the 5 kg flywheel so that some users will quickly be reaching their limit of the bike and feel frustrated.✘ Pedaling lacks fluidity, makes noise and comes with jerks. | 5,5/10 |
1. The fitness brands and manufacturers such as BH Fitness, Tunturi, Christopeit, Toorx, Heubozen, Decathlon, Domyos or Care Fitness often have similar fitness equipment but with a price-quality ratio that varies a lot. The best value for money is offered by the fitness brands DKN Technology and Skandika Fitness.
2. Cheap exercise bikes that are sold for less than 200 € have a much lower pedaling comfort than the more expensive stationary bikes. This is especially noticeable when you speed up on your bike or when you increase the pedaling resistance. Cheap exercise bikes also have a lower maximum power (or maximum resistance). In addition, they begin to make noise and squeal after 5 to 10 hours of cycling. Stationary bikes in this price range are often foldable exercise bikes that are practical and do not take up too much space, but unfortunately this often happens at the expense of quality, so that the price-quality ratio is not the best. Lastly, some users do not find the right position, especially for the back or the arms, due to the small dimensions of these folding compact exercise bikes.
3. In the middle / top range category, DKN Technology and Skandika Fitness are the best brands for home exercise bikes. Their price range is between 300 and 650 € for home exercise bikes. DKN Technology also has a semi-professional range with stationary bikes that cost more than 1000 €. If you want a very high-end exercise bike for frequent home use and are ready to spend more then 1000 €, the Kettler Racer S will be a very good choice for you.
4. The flywheel weight is a good criterion for assessing the quality of an exercise bike. A flying wheel that is too weak is not pleasant: the pedaling is less comfortable and less fluid, jerks come with each pedal stroke. The pedaling becomes smooth and pleasant above a 9kg flying wheel.
5. A bluetooth connected exercise bike enables you to connect your iPad, iPhone or your tablet. This makes the workout much more interactive and interesting since it becomes possible to customize your cardio or HIIT exercises, to easily modify the difficulty and duration of any workout routine, to create new workouts and to track your statistics and see your progress, as the Vescape application allows.
OUR ADVICE: Think carefully about your goals and what you want to achieve before choosing an exercise bike. If you really plan to work out regularly, at least once or twice a week, then we advise you to choose an exercise bike in this ranking in order to exercise in the best conditions and in the right position, have a fluid and comfortable pedaling and not hurt your joints while cycling.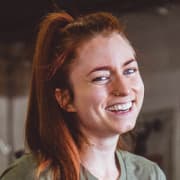 Clara Miller
Fitness Writer
Clara Miller has a Master's degree in Sports Science and has worked for famous sports and fitness brands. She is passionate about sports and regularly writes about fitness, weight loss and motivation for various blogs and magazines.